Chai Chai Chai, Am Yisrael Chai
With Monday comes Yom HaZikaron, Israel's Memorial Day...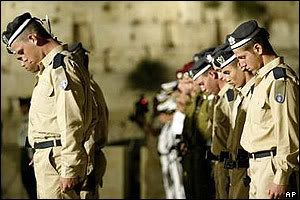 ...and with Tuesday comes Yom Haatzmaut, Israel Independence Day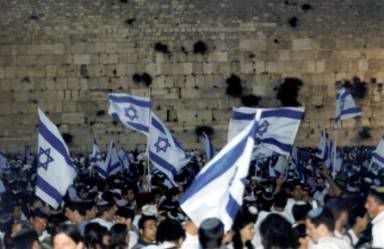 Israpundit linked up to a great JPost commentary on the event, titled
Still Standing, Still Proud
. Some excerpts:
...Hazal [Sages] wrote: 'The Jewish People is compared to the dust of the ground and to the stars of the sky. When they sink, they sink down to the dust; when they rise, they rise into the stars.'"

This time of year as Independence Day approaches, Gouri's words always resonate. One of those "Only in Israel" experiences is that incredible combination of sad and happy as the ceremonies for Remembrance Day for fallen soldiers and terror victims fuse back-to-back with the Yom Ha'atzma'ut festivities, this year on April 23.

...As we blow out the Remembrance Day candles and prepare for Independence Day's fireworks displays, it seems almost natural this year to add the Shehechiyanu blessing, praising God "for keeping us alive, sustaining us and bringing us to this moment."

For after all, we'll still here, battle-scarred but not beaten.

Our very existence is worth mentioning as an achievement - if only for the pleasure of annoying our many enemies. The fact that we can celebrate Independence Day at all, albeit wiping away a tear for those who gave their lives and didn't make it to the country's 59th birthday, is noteworthy.

...People abroad often forget that most Israelis live ordinary lives worrying about ordinary things: family, health, finances. We argue about politics. And how. But it is a family argument. And at least we aren't concerned about the neighbors hearing the shouting.

There's terrorism, but we don't have to deal with anti-Semitism. Indeed, we're free to laugh at ourselves with famous Jewish humor and don't have to worry whether saying things like "famous Jewish humor" is insulting.

...Another year has gone by without our prayers for peace being answered. But despite the prayers of our enemies, we're still here, not just surviving, but thriving.

And that's why this Independence Day, as every other, I will hang the blue-and-white flag and raise a glass in that quintessential Jewish toast: "Lehaim - To life!"
Baruch haShem l'Eretz Yisrael! Baruch haShem l'am Yisrael!
AM YISRAEL CHAI!
Labels: Israel, Judaism, Yom Haatzmaut, Yom HaZikaron, Zionism